News
Teco exhibited at SPS/IPC Drives in Nürnberg (Germany)
03.12.2012 | Category: News |
| | |
| --- | --- |
| | In Nürnberg just finished the largest European exhibition focused on industrial automation SPS/IPC Drives 2012. Our company Teco has exhibited control systems Tecomat TC700 and Foxtrot on booth together with company GEOVAP, creator of HMI/SCADA software Reliance. |
---
Our open and free programmable control systems are used in various fields of control and automation, often in automation of machines, processes, buildings and transport/telemetry. At SPS exhibition we have presented interesting new - connection of control system Tecomat Foxtrot and bus KNX, what appreciate especially integrator companies in building automation.
The world of decentralised installations of KNX system is supported by many manufacturers of design wall switches, thermostats, displays etc. So our company prepared possibility to connect any device connectable to KNX with control system Tecomat Foxtrot. To understand the principle of interconnection, you can see short animated presentation in PowerPoint (1.3MB .ppsx or 1.7MB .pps).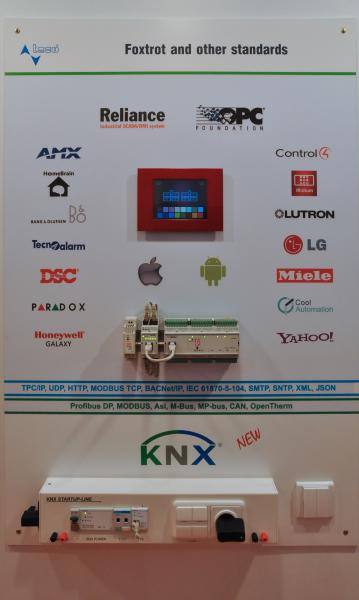 This function is because of large variability of settings supported only by programming software Mosaic (not by FoxTool). Objects in KNX network including KNX/IP object server (BAOS) to be parametrized by original ETS 4 software.
Users of KNX system get by connecting of Foxtrot possibility of remote access, control and maintenance or programming, function of datalogger and data collecting and sending to databases anywhere via internet and also possibility to free programm any functions, what KNX users are missing.
On the other side, Foxtrot users in building automation get possibility to connect any KNX control devices. Because control devices for KNX system are manufactured by hundreds of manufacturers, users of Tecomat Foxtrot are fully independent on design of control devices.