News
Teco received Innovation Of The Year Award 2012
02.01.2013 | Category: News |
| | |
| --- | --- |
| | On 7th December 2012, the Innovation Of The Year Award 2012 has been awarded in Congress Hall of Czech Upper Chamber (Senate). The award has been published every year since 1996 by Association of Innovative Entrepreneurship Czech Republic. The Association has been since 1993 an independent autority for innovative enterpreneurship. |
---
One of the awards – certificate of merit – reached control system Tecomat Foxtrot from our company Teco a.s. Foxtrot has wide range of application in automation and control of machines, processes, technologies, buildings and transport.

"We are very glad to reach the Innovation Award, because it confirms our effort to be on the top in development of automation and show the direction, which is often followed by even huge multinational corporations. It is appreciation for all our emploeeys and finishing of succesful development, it´s results – products of control system Tecomat Foxtrot – appreciate customers in about 30 countries, where we export to." Published Mr. Jaromir Klaban, Business Director of Teco a.s.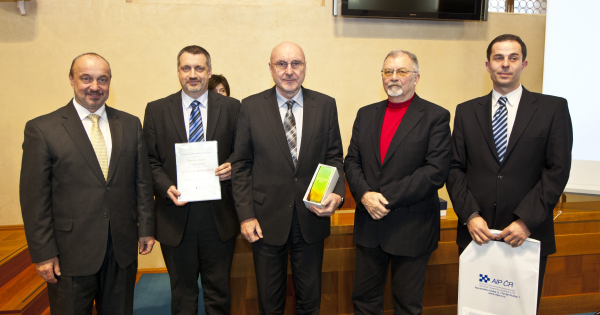 Image: Innovation Of The Year 2012 Award has been awarded by Mr. Petr Bratsky, Senator of Upper Chamber Czech Republic (first from left side) and Mr. Karel Sperlink, President of AIP (second from right side) to Teco representatives: Jiri Kovarik, general manager (in the middle), Jaromir Klaban, business director (second from left side) and Petr Ovcacek, business development (in the right side).