News
Teco celebrates 20 years anniversary with new logo and a lot of new products
21.03.2013 | Category: News |

In march 2013 we celebrate 20 years anniversary of brand Teco. And we present new company logo and new company look. We have shown it at exhibition Amper 2013. veletrh Amper.
---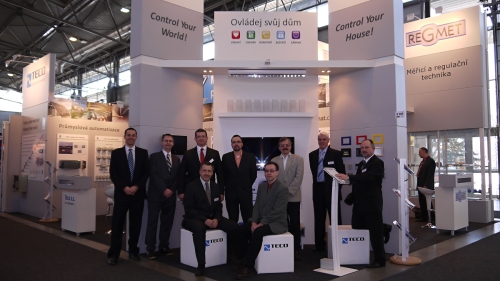 Image: company Teco at exhibition Amper 2013 in Brno, Czech Republic


Image: New company logo
A list of new products presented at Amper 2013:
Wall switches CFOX line with CIB bus in design LOGUS90
Combined module C-IR-0203M with two power relay 16A
Module C-IB-1800M on DIN rail with18 inputs (4 combined)
New semigraphic interior display C-RC-0003R for temperature control in various designes

More serial channels for Foxtrot: communication modules of line SC-110x

Module UC-1205 for connection into mobile network GSM
Controller for 64 ballasts DALI - C-DL-0064M

Module C-WG-0503S and Aperio – wireless lock Assa Abloy

New design of wall touch panel ID-18
Integration of Foxtrot and system Lutron
Integration of Foxtrot with household appliances Miele
Integration of Foxtrot with system KNX
Control of multimedia players XBMC directly from Foxtrotu
Example projet for download at demo.ovladejsvujdum.cz
and many new functions in software Mosaic
More about new products you may get soon in comming issue of magazine TecoInfo.