News
Exhibition AMPER 2012 - News from Teco booth
26.03.2012 | Category: News |

We thank to all visitors we have met during the biggest electrotechnical exhibition in Czech Republic - AMPER 2012. As well we thank to all visitors of conference Intelligent Buildings 2012, where we presented our lecture "Connecting building technologies into control system Tecomat Foxtrot." Here is a recapitulation of presented news for all who hasn´t met the exhibition.
---
Control systems Tecomat Foxtrot are in last time very popular as well in building control and home automation, especially central module like the brain of intelligent electroinstallation. AMPER exhibition is not only exhibition for building automation, but for industry autometion too. That´s why we exhibit in hall V together with booths of big multinational companies from industrial and process automation field.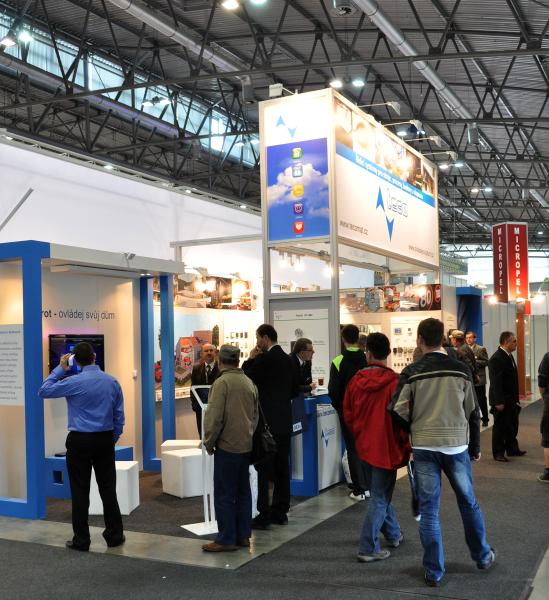 Teco booth in hall V.

Our last new product is focused right at industry and machine control, where customers need more fast inputs and outputs: Central module CP-1003. The module has 2 TCL buses what double number of I/O to 20, so in typical 12 inputs / 1 module it is 240 I/O in total. We may add more 32 I/O in basic module. The combination of I/O and especially its features are very interesting for customers from machine control.
8 fast digital inputs - they are able to operate with input changes up to 100kHz. We may configure them as fast counters, but as well as direct reading of two-phase motion and speed control encoders. There is even possibility to define voltage level, so they may work with 5V, 12V pr 24V signals without any converters.
8 universal inputs - they may enlarge number of digital inputs to maximum 16 or we may define each of them as full analog input - current, voltage or resistance temperature sensor.
4 fast contactless digital inputs - again up to 100kHz frequency switching voltage 12-24V DC. Outputs support PWM function, frequency motion control, direct DC engine control and step engines.
8 relay outputs and 4 analog outputs - they complete the line and together with ethernet port and built-in functions like web server and high capacity 32 GB memory card they makes CP-1003 a universal brain of any machine or production line.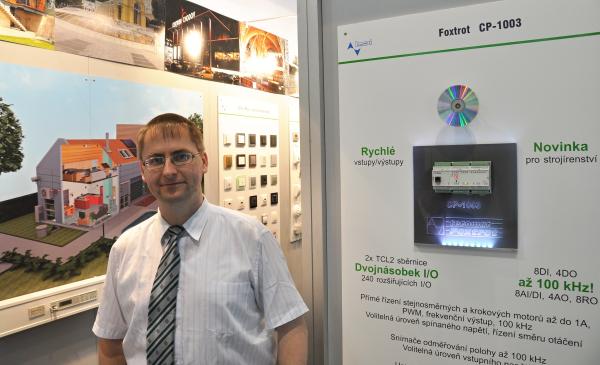 The news at Teco booth: central module Foxtrot CP-1003 for applications in machinery and Pavel Smílek - integrator engineer with much more wider range of applications.
During Thursday we have together with application engineer Pavel Smílek visited Elektrika television studio. We have discussed about possibilities of Foxtrot control in buildings - connecting energy meters, gas and water meters, reading registers from electricity meters via optical interface, connecting Foxtrots into network, even with remote access, voice outputs controlled by CIB bus etc. You may watch the video (in Czech language) here.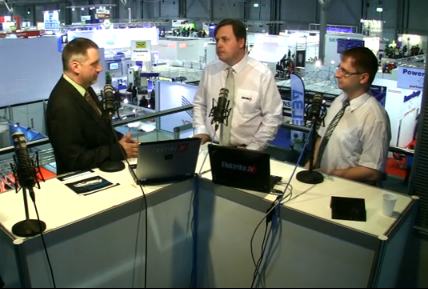 On field of intelligent building control with CIB bus we have shown direct communication of internal web pages with today´s pupolar smartphones and tablets.
In booth we have connected iPAD (see image) as well as Smartphones (in pockets of our staff). The same web pages you could watch at TV screen as output of ID-TV - new product of Teco, what convert internal web pages in Foxtrot into HDMI input of any television.
| | |
| --- | --- |
| | |
| We have shown a simple control of electroinstallation with Foxtrot in iPad | Control center of today´s household may be created my multimedia audio/video system - here Control4 |
At field of wall switches, interior sensors and wall temperature controlers we have shown the independence on any producers designs. So system integrators may offer to end customers or architects a wide range of interior products for perfect choice.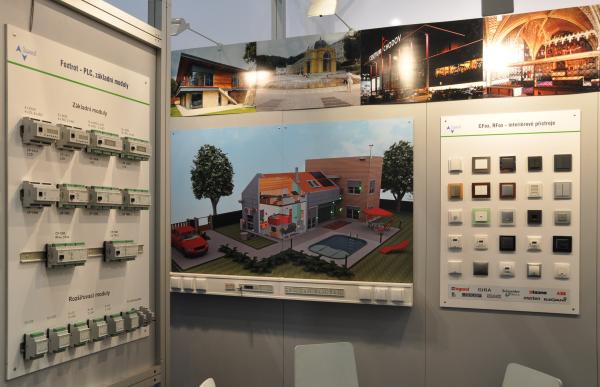 Left side - a wide range of central modules Foxtrot, right side - a wide range of wall switch designes, sensors and temperature controllers.

At two next panels we demonstrated bus modules CFox for CIB bus (Common Installation Bus), wireless product of RFox line and products of other manufacturers, we may integrate into system via universal or specialised bus modules. The topic of the exhibition was connecting of RFID card readers, keyboard readers, biometric finger-print readers via Wiegand interface. Tématem této výstavy bylo připojování čteček RFID karet, čteček s klávesnicí a bimoetrických čteček otisku prstů přes rozhraní Wiegand. For this we have presented the now product - module C-WG-0503S. It may be used as Wiegand convertor into CIB bus. And as well it may allow you to connect safety and fire sansors directly to Foxtrot system.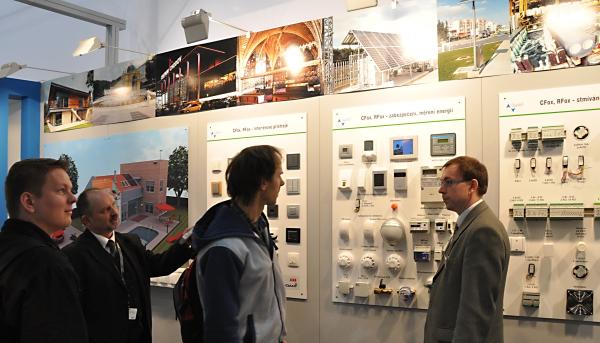 The increasing number of modules for CIB bus and wireless RFox has impressed many visitors.

We look forward to see you at any future exhibiton.