News
Foxtrot can be connected with Home and Business Security System DSC
17.05.2012 | Category: News |
| | | |
| --- | --- | --- |
| | A list of Tecomat libraries files has been expanded by library SecurityLib. In this file as a first we have put in the block fbDSCsystem for communication with security systems DSC PC1616, PC1832 and PC1864 from product line PowerSeries. | |
---
The principle is a cyclic monitoring all statuses of sensors/zones connected to DSC system including alarms generated by security system and other statuses. The statuses of sensors we may use in Foxtrot for any logic in intelligent electroninstallation. For example for control of lights, heating and air condition according to information from motion sensors in alarmed or unalarmed mode. And additional functions of security system - generating alarm SMS message, e-mail etc.
For connecting security system DSC into PLC Tecomat Foxtrot or TC700 we need to use module IT-100 from DSC, which creates interface at RS-232 and is designated from manufacturer for connection security system with devices of third parties. On Tecomat side we may use any serial channel with this interface. The simplest is using CH-1 at for instance basic module Foxtrot CP-1000, which is equipped with this interface.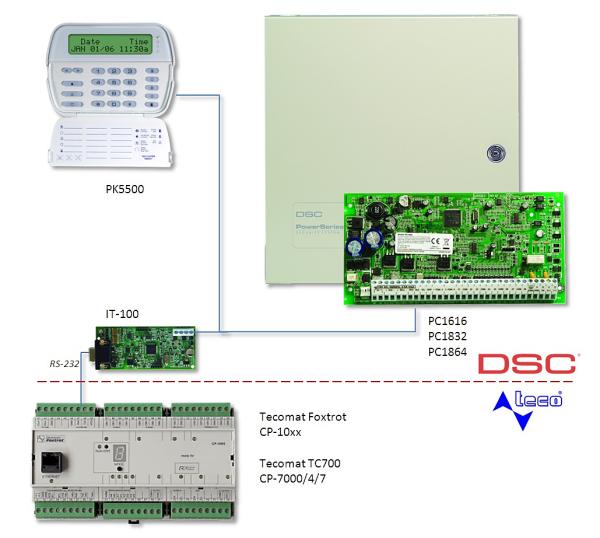 Scheme of connection security system DSC into PLC Tecomat Foxtrot/TC700

PLC via function block fbDSCsystem is cyclic asking its status and this is storing into its internal variable, that contains field for status of up to 64 security zones and up to 8 security sub systems. Of course, the block is checking the quality of connection and in case of communication error inform us. The functions are briefly described in following image.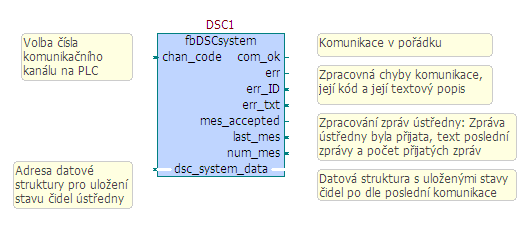 fbDSCsystem - brief description of communication block functions