News
Teco exhibited in Russia and Ukraine
27.05.2013 | Category: News |

During March and April 2013 we have presented our control systems at three exhibitions in Lvov, Kiev and Ekaterinburg. During exhibition in Ekaterinburg we have also managed training for customers - system integrators.
---
In Lvov (Elektrika 2013) and Kiev (Elcom Ukraine 2013) we have presented our systems at booth of our Ukraine partner CP Profikom.
Image: Exhibition in Lvov

At Ekaterinburg we exhibited our products at booth of our local partner - company Teritorija Kontrola.
Image: Exhibition in Ekaterinburg

Both mentioned exhibitions presented products and technologies in electronics, energetics and automation. We have presented both our control systems Tecomat TC700 and Tecomat Foxtrot. The main topic of exhibition was using of renewable energy sources, control of technologies and energy in buildings, houses and administrative complexes.
Customer interested in building automation in these markets prefer in their solutions bus installation. We noticed increased interest in integration of multimedia A/V systems with other building technologies, what is one of advantages of our system Tecomat Foxtrot.
Image: Exhibition in Kiev

Our system Tecomat Foxtrot and its references and solutions in control and monitoring of building technologies has interested many customers. On references, and many of them on this market, we have presented its possibilities, functions and remote access. Our philosophy of control enables customers perfect monitoring of all processes and technologies in houses, buildings and commercial complexes. And of course - continuous monitoring gives customers data for correction of operation expenses for each technology.
We also see big interest in control of common industrial processes, from single-use machines to technological manufacturing lines in various fields in industry and agriculture. All customers here are looking for price competitive solution compare with traditional suppliers.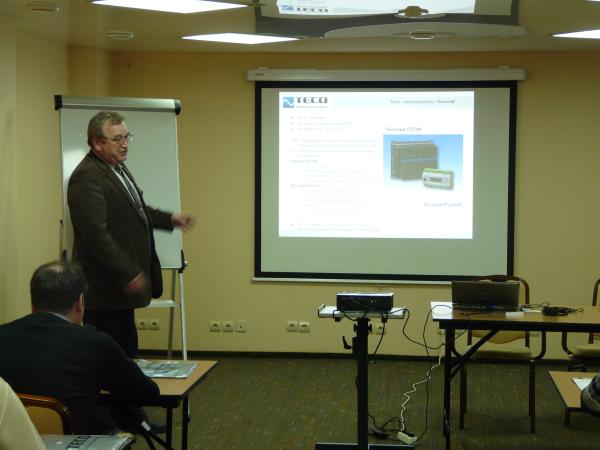 Image: Training in Ekaterinburg
Image: In Ekaterinburg we have arranged together with our local partner - company Teritorija Kontrolja - technical training for both systems Tecomat TC700 and Tecomat Foxtrot.