News
C-DM-0402M-RLC: New universal dimmer on CIB bus: up to 2kVA!
15.06.2013 | Category: News |

At exhibition Amper 2013 we presented new product in CFox line. It is dimmer for lights powered by main 230 V AC. The module coded as C-DM-0402M-RLC is ready to delivery max. within 4 weeks. The dimmer has a lot of useful features and configuration options.
---
---
As we may see from code C-DM-0402M-RLC, the module has integrated CIB interface and has 4 inputs and 2 outputs. There are 2 independent addreassable phase controled channels for 230 V AC, each one for up to 500 VA load. The dimmer and its control algorithm is well designed for high reliability and immune to interferences in the main and interference of ripple control, which can cause flashing of lights.
We added also the function of dimming ramp, which can be entered as parameter for each channel. This ramp function together with start synchronization over all modules on CIB branch, gives the powerful tool for creating static light scenes as well as dynamic scenarios.
At front panel we can see a number of LEDs and buttons. Side of standard signalling of the CIB run there is the bus/manual control. To switch manual mode we use button next to this signal LED. Each channel has the button for switching on/off in manual mode (0%, 100%). Signals ON and ERR inform us about real status of channel, for example that one of protections - heat or overload works.
Letters RLC in code of dimming module indicate, that dimmer can work with resistive, inductive and capacitive load. According to program settings one of three signal LEDs is lighting:
RL-inductive load - switching on during half wave until the end of wave:
RC-capacitive load-is switching on in zero and switching off during half wave: ´
LED/CFL - load with integrated ballast - LED or CFL(= Compact Fluorescent Lamp).
Warning! We may dimm only types marked as dimmable by manufacturer!
Inductive loads are typically motors or classic transformers. Charackter of capacity load has today most of electronic transformers and ballasts for dimmable lamps and LEDs for 230 V AC.
The module has also 4 universal inputs which we know from other modules of CFox line. We may connect voltage-free contacts, RTD temperature sensors or dual-ballanced security sensors. Their using is determined by program and it is not related with function of dimmer.
The module may control even higher load than 500 VA. In the case that we group two independently dimmable channels to one, we may dimm up to 1.000 VA load! It means that we connect galvanicaly outputs of both channels. Also we have to synchronize control of both dimmers by the required same value transmitted by CIB bus.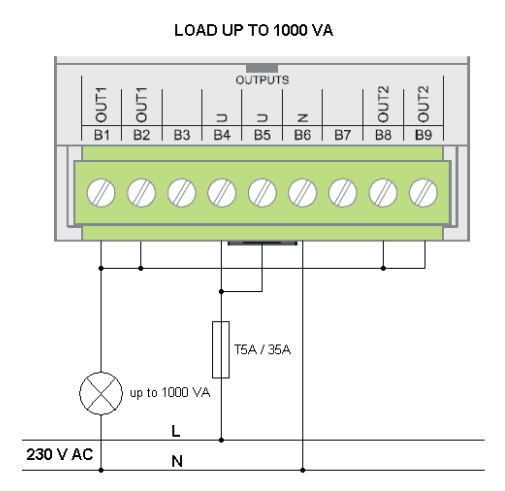 With dimmable load we may go even further. If we connect 2 modules and their 4 independent channels, we may dimm continuously load up to 2.000 VA! And ofcourse, we have to synchronize control of all 4 channels placed in two physical modules.