News
Teco exhibited at Integrated Systems Europe in Amsterdam
11.02.2014 | Category: News |

Just finished exhibition Integrated Systems Europe (ISE) is the largest European exhibition focusing at audio/video systems and system integration. And because our control system Tecomat Foxtrot is a perfect tool for home and building automation, we cannot miss it.

---
We have presented system Tecomat Foxtrot as a part of the booth of our customer, company Haidy, who presented world premiere of an interested standardized home automation solution based on our control system Tecomat Foxtrot and programmed by Mosaic such way, that installation companies or integrators do not need to know programming. The whole system to be only parametrized and set via web browser on tablet/notebook or any other device with web browser. Another advantage is easy creation of scenarios, groups of devices (like lights, ...) and time programs by end users.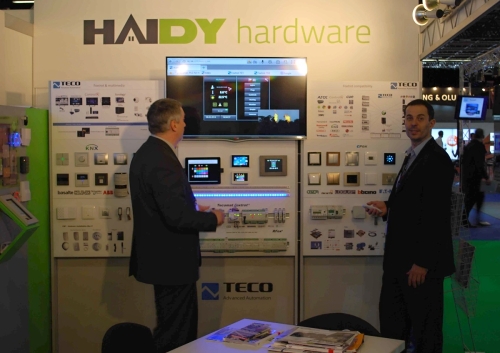 Our part of the stand has presented possibilities of Foxtrot in home automation and building management systems for integrators and installation companies. The most important is the openness of Foxtrot to other systems and technologies, wide range of industrial interfaces enabling to connect any technology, the widest range of peripheral modules at the market, independence on wall switch designs and free programmability according to international standards for PLC programming, what means that each PLC programmer at any country may easy program Foxtrot in any application.
The user is getting with Foxtrot a powerfull system for creating any control logic, visualization and functions for standardized or tailor-made project of home/building automation, more over with possibility to integrate to Foxtrot other systems - A/V multimedia systems (like Control4, Bang&Olufsen, AMX, Crestron, Cue), certified security systems (Paradox, Galaxy, DSC, ...), air-conditioning (Samsung, LG, ...), system Lutron, home appliances Miele or any devices of KNX and many more.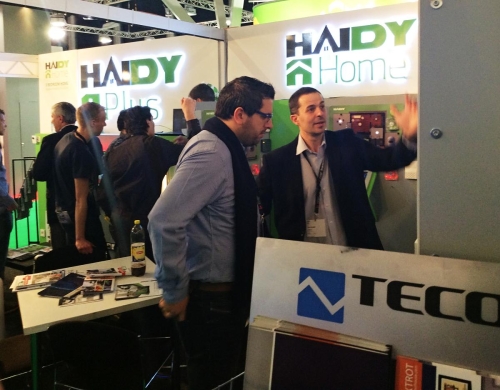 Our stand has been visited during three exhibition days few hundreds of visitors, most of them integrators, who liked very much the wide range of Foxtrot possibilities. Thanks to big interest in Foxtrot from foreign countries we are preparing on-line webinars training harware structure of Foxtrot and programming tools.
Especially for domestic (Holland) integrators it was interesting to see presentation of many Foxtrot applications at Holland market: control of yachts, Amsterdam fire brigade trucks, trucks&caravans or multimedia solutions for churches. And one nice applicaton right in the process - control system of Police Academy shooting range.
Another interesting highlight on the stand has been standardized home automation solution Haidy Home from our customer company Haidy, created (programmed) from our control system Tecomat Foxtrot. This solution showed integrators and installation companies a solution, which may be done (programmed) also by themselves from Foxtrot, but they may also apply it or distribute.