News
News presented at the international building trade fair For Arch 2014
25.09.2014 | Category: News |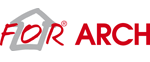 From 16th to 20th September, we have exhibited at the international building trade fair For Arch in Prague (Czech Republic). We have met many people interested in home automation, looking for solution to their homes and buildings. Have a look at our stand and the news we presented.
---
Choose your design! That´s how we can name this picture.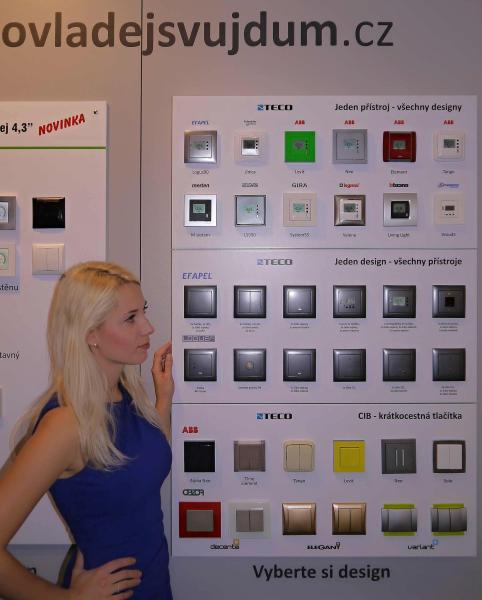 At a set of 36 various bus wall switches and controllers from different manufacturers, connected by CIB bus (CIB-Common Installation Bus) we demonstrated openness of system Foxtrot to practically all wall switch designs of main manufacturers of wall switches and sockets.
Complete range of 12 different products on CIB bus we demonstrated in design Logus90 (manufacturer Efapel - Portugal) in grey color in the middle of the panel: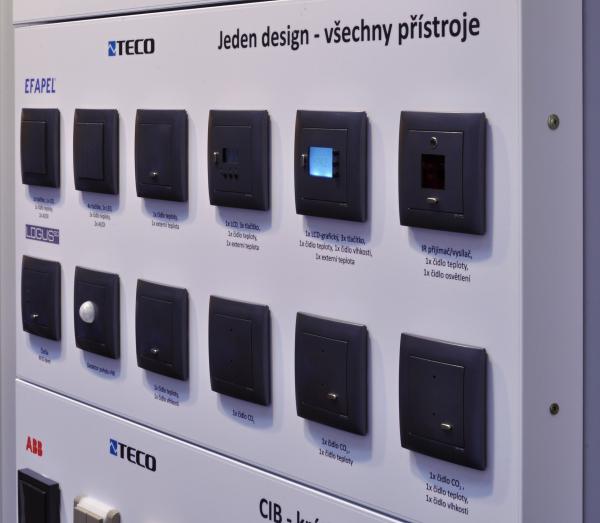 At the bottom part of the panel we presented example of all designs of wall switches, in which are available two and four-times short press bus buttons. From company ABB it is Alpha Neo, Future Linear, Tango, Neo Tech, Solo, Levit and Time and Element. From company Obzor it is line Decente, Elegant and Variant.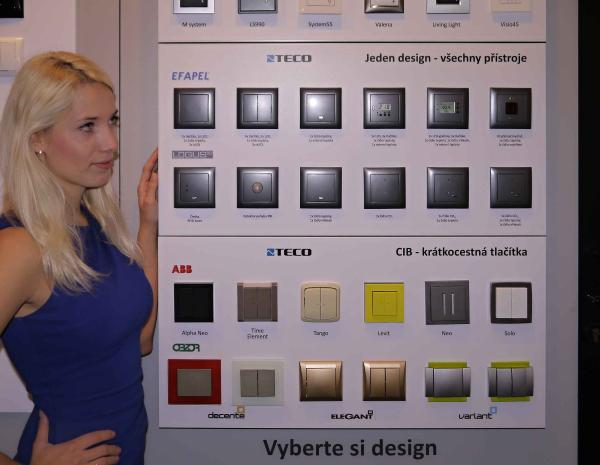 At the upper part of the panel we presented example of one type of product available in twelve designs from nine manufacturers. The product is module C-RC-0003R-xxx. Of course, there was not enough space to present all manufacturers and all designs. The range of design is in the fact wider and is still growing.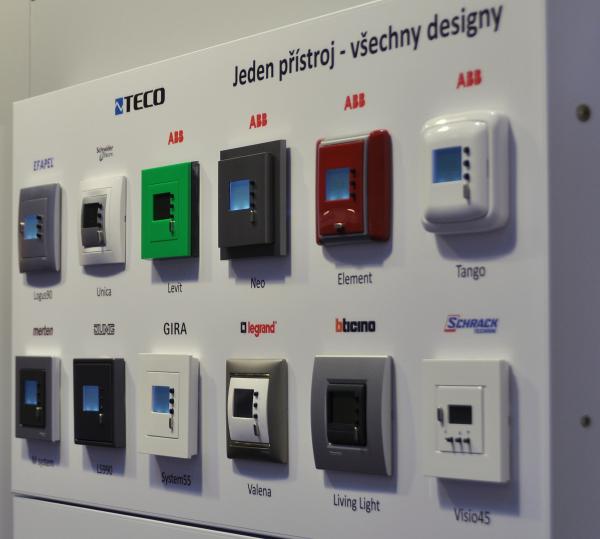 The whole range of designs including all frame colours exceeded size of specialized panel with small images. Beside of interior modules on CIB bus we presented on other panels a wide range of modules on CIB bus, which belong to Foxtrot system. We deliver modules on DIN rail (to switching box), built-in modules (boxed) and modules with IP-65 protection.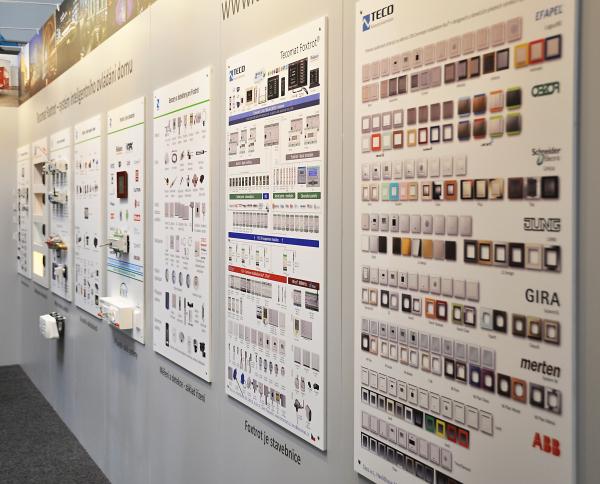 On one panel we presented all ways and possibilities how Foxtrot can measure consumption of electricity, gas, water and heat. We focused on practical presentation of wireless reading of water meters, proportional indicators of gas and heat meters according to standard Wireless Mbus. The data was displayed at our booth and transferred wireless to booth of company VIPA CZ, who deliver wireless water meters and proportional indicators.
Panel contained module connected to Foxtrot, who read current in 3, 6, 9 and 12 circuits. It´s easy mounted on circuit breakers. As well we presented two analyzers of main quality and few one and three phase electricity meters.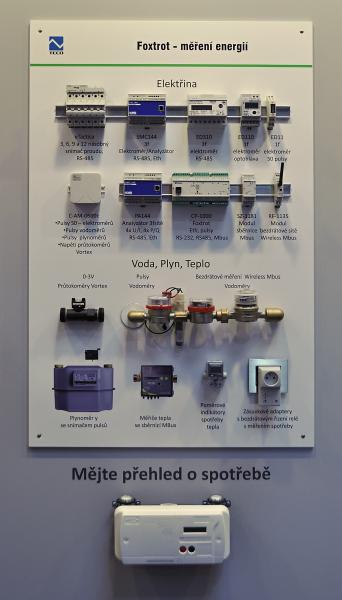 On-line values and statuses of all meters we presented at new 4,3" touch display in built-in version named ID-32.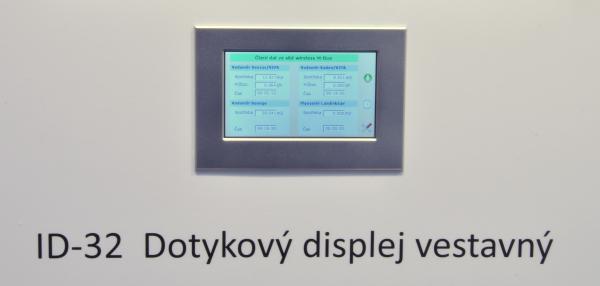 The most significant new product we presented was new series of touch displays named ID-31. It is a quite new product based on new powerful processor ARM Cortex with capacitive touch display with resolution 480x272 pixels. This new display brings new interesting graphical options. They are represented by scroll bars, colour pickers, line graphs and flow graphs.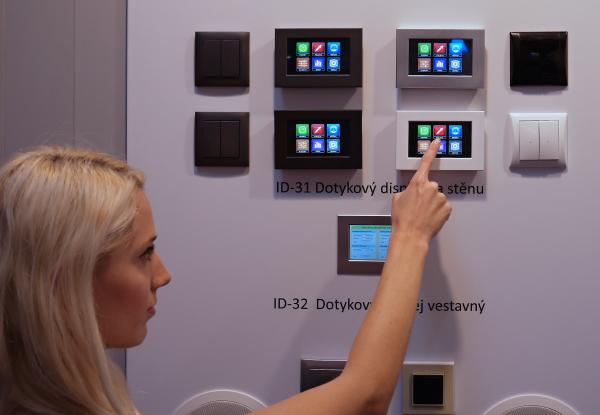 New display allows to create user types of objects: indicators, meters, ...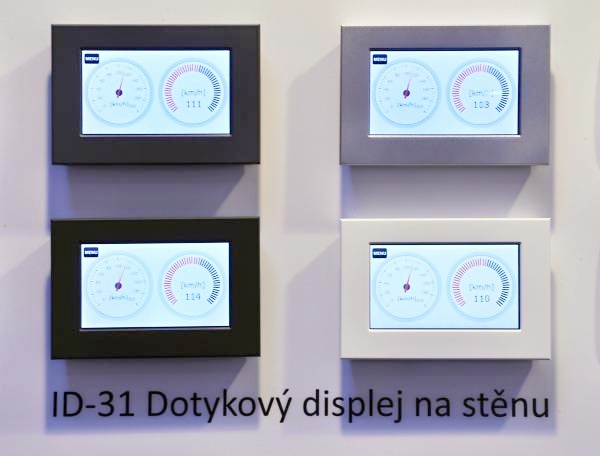 ...or flowing line graphs. Users may create their own graphic libraries according to their needs and business plans.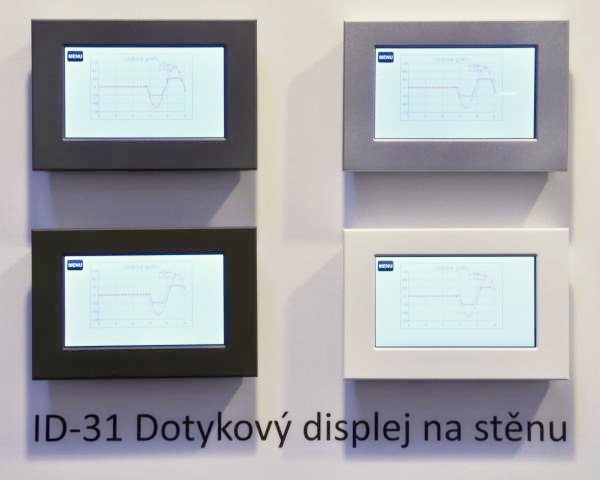 At the end of our booth presentation let´s mention a part of panel, which presented possibilities of CIB bus "voice module" - audio player C-VO-0001B. Module connected on CIB bus in installation box contains voice player who plays voice files stored at SD card, including 12W/4Ohm amplifier. So the only thing you need to do is to connect speaker of your choice. From programm you may choose a code of required voice, sound or sound warning.
By program you may set also amplification. Here is space for creativity of programers, who may create own audio libraries of specialized sounds. In case of installing Foxtrot on machine the machine can be learned to speak - about diagnostics, warnings etc.