News
FoxTool is replacing IDM
25.07.2011 | Category: News |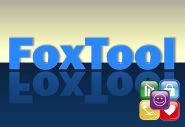 Download FoxTool - Software for configuration and parametrization of intelligent electroinstallation system Foxtrot with CFox peripherials on CIB bus and wireless network RFox.
We relase Beta version of software FoxTool, version v2.0.1, to download here. FoxTool is replacing software IDM, holds on to all important attributes, expanded with new functions.
---
We were forced to change the name of the software, because name IDM is registered by company ELKO EP. All projects created in IDM software are fully compatible with FoxTool software. Development of FoxTool is fully supported.


Changes description:

1. Implementation of Central Module CP-1000 (necessary to use SD card for web server),

2. Changed filter in Units Managers -> Units Mahagers -> Add Unit,

3. Window System Set Up -> add option for web server login definition for each user,

4. Added dialog box Central Module Settings -> Basic Module Tecomat Foxtrot Selection -> CU2-01M, CP-1000,

5. Added support (operation) of CFox Modules (CIB bus):

C-RI-0401S -> built in module with integrated IR receiver and transmitter, lighting sensor and 2xAI/DI,
C-DL-0012S -> built in module with interface DALI, CIB <-> DALI, 12 independantly controlled DALI conventers,
C-IT-0504S -> built in module 4x AI/DI, 4x AO (0-10V),
C-DM-0006ULED -> module for na DIN rail for LED dimming, voltage outputs,
C-DM-0006ILED -> module for DIN rail for LED dimming, for LED dimming, current outputs
C-FX-0024X -> control module for air conditioning units with EC engines, 3x AI/DI, 2x DO, 1x out for EC engine (optional 0-10V, PVN),
C-OR-0008M -> switch module for DIN rail, 8x DO 16A with NO/NC contact,
C-VT-0102B -> control engine for recuperation unit inVENTer, 2x fan inVENTer, 1x AI/DI

6. Revision of Reliance 4 documentation - Building Automation -> Help -> Reliance - Building Automation.