Control of a luxurious residence at the Pruhonice district in Prague, Czech Republic
Reference
There is a large and luxurious residence at the Pruhonice district in Prague. The residence demonstrates how the modern aesthetics, environmental design and the smart house technologies can be connected together.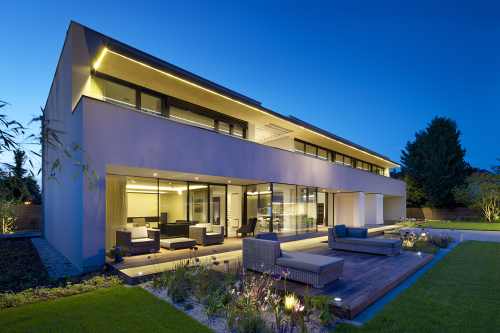 The minimalism house has been design by Jestico + Whiles, a renowned international design studio based in London and Prague. From the street, the house may seem ordinary. Once you are inside, the house will show you its "real face" that is full of minimalistic and modern design.
​inHome AMX, a smart solution for modern living along with Tecomat Foxtrotcontrol system were installed in the building. By connection of these two proven systems, a reliable control along with user-friendly visualization have been achieved. The systems communicate with each other over the Ethernet and allows the family members to control their smart home via an iPhone or an iPad.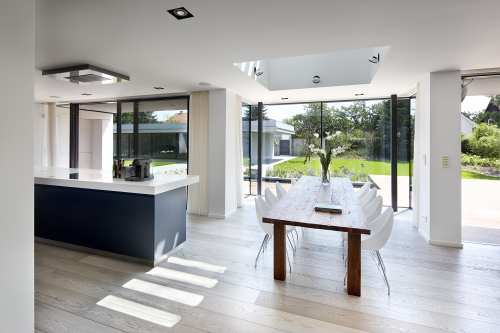 Lighting and shading system
The lighting and shading systems are connected with the Tecomat Foxtrot PLC. It means that they are controlled by Tecomat Foxtrot directly. Also, there are automatic functions programmed in the PLC, which are triggered automatically according to the light conditions. If necessary, the users can control lights and window sun-blinds directly via the wall controllers or remotely over the application in their smartphones/tablets.
Heating and air-conditioning systems
The heating and air-conditioning systems are controlled by Tecomat Foxtrot as well. The system continuously measures the temperature in all rooms and controls the water flow in the underfloor heating system. By using Tecomat Foxtrot, the power consumption for heating was cut down by 30%.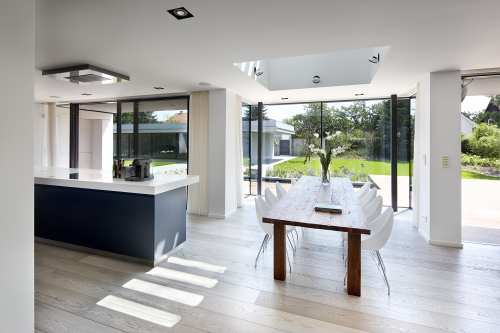 Energy consumption control
The energy meters like water meter, gas meter and electricity meter provide the data to the inHome AMX system. Gathered data is subsequently processed and stored in the system for the users who can check the energy consumption in the application.
Safety
The residence is equipped with the Paradox EVO security system which is connected with the security agency. Comfortable control of the security system (including the security cameras) is available via the inHome AMX system's application as well.
Audio/video system
The audio/video system is controlled solely with inHome AMX. The application installed on users' iPhones and iPads can control the TV set, satellite receiver, PlayStation and Apple TV. In the house, there is a smart home doorbell system installed as well. Apart from communication with the visitors and display the weather forecast, the family members use the doorbell monitor for control of the smart house technologies.
The smart house technologies can be controlled either with the inHome AMX system or by classic switches on the wall, thermostatic head on radiators and the remote controllers. 
Utilities