Products
PLC Tecomat Foxtrot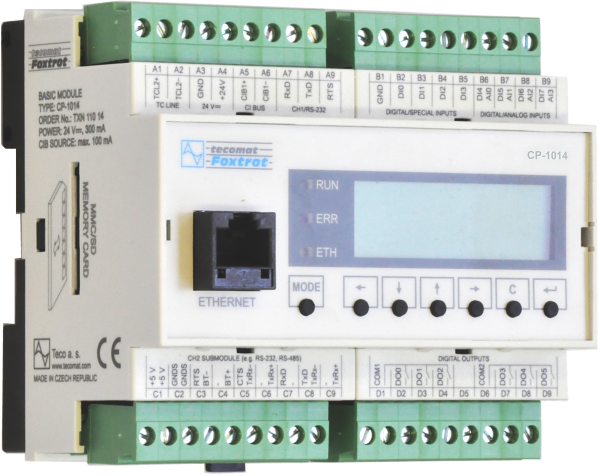 Tecomat Foxtrot
Tecomat Foxtrot is a compact modular control and regulation system with powerful processor, mature communications, original two-wires and wireless connection with intelligent electroinstallation elements and peripherals.
Foxtrot in Ethernet network – LAN/WAN/internet
Foxtrot is based on modern and perspective Ethernet communication. There is integrated FAST ETHERNET 100Mbit/s with RJ-45 connector and it enables direct integration of PLC Foxtrot into standard and industrial Ethernet network. On this fast communication line Foxtrot holds up to 6 connections, for instance with software Mosaic, SCADA visualization system, OPC server, graphical touch panel and concurrently answers to 6 web clients questions to built-in web pages.
Foxtrot and extension modules on CIB bus
Foxtrot is perfectly designed to control intelligent electroinstallations and buildings. For this Foxtrot uses electroinstallation bus CIB – Common Installation Bus with guaranteed response between sensor and actuator to 150 ms. For this bus there is available still expanding amount of modules for interiors in the wall switch and sockets leading manufacturers designs, further modules for the installation into electroinstallation boxes, into lights and under covers of other device as well. Finally there are modules for installation on DIN rail into switchboards like circuit breakers etc.
Foxtrot in mobile network GSM/GPRS/EDGE/UMTS/3G/HSDPA
There are two options how to connect Foxtrot into mobile network. The traditional RS-232 connection is used for receiving and sending SMS messages or dial-up connection through AT commands. The progressive way uses GPRS/3G routers connected through Ethernet channel. It allows to use all Foxtrot's tricks, going out of its abilities to communicate direct with IP protocols, like time synchronization with internet servers, direct SQL database storing , internal web pages providing, downloading fi les stored at high capacity SDHC/SD/MMC cards, sending reports via e-mail etc.
Foxtrot and connecting with audio/video multimedia systems Control 4, Bang&Olufsen and others
Foxtrot is ready to communicate on fast ethernet channel and this allows to connect Foxtrot with nontraditional operator interface – multimedia audio/video systems. One of them is Control 4, another one is Bang&Olufsen. These systems are usually called multiroom systems and allow us to control, choice and distribute audio/video signals from any source to any place. By its control means typical for audio/video they are able to control lights, temperature and safety systems in buildings. And just for these typical functions of electroinstallation, metering, control and electronic safety systems, multiroom systems use Foxtrot for the connection with each element in the building – switch, light, heater, detector etc.
Important features
High performance
Modularity
Installation design ("circuit breakers")
Up to 270 inputs and outputs / 320 modules on CIB bus
Built-in ethernet, web server, web pages
On-line programming using Mosaic software
Possibility of simple parameterization using FoxTool software
Application software back-up in the internal memory
Native Reliance 4 SCADA/HMI driver, Tecomat OPC server available
SD/SDHC/MMC card slot as a high capacity storage mass up to 32 GB
Support of Modbus RTU/TCP, Profi bus DP, CAN, BACnet,
HTTP and other standard protocols
Program and communication compatibility with Tecomat TC700 and older Tecomat types
Foxtrot application possibilities
Integration of multisources heating systems, HVAC, energy metering and management, integration of electronic security systems, access systems - doors, gates, browsing. Perfect pbuilding process coordination. Optimalization of energy saving control.
Comfortable programming and maintenance of applications via on-line programming during operation. Web interface for parametrization and mantenance. Removable flash memory card for data storing - data, recipes, web pages. Remote access. Power supply back up with external accumulators. System memory back up. Standardized metering ranges even with thermocouples. Decentralised I/O up to 1.700 m via optical fibre.
---