Products
PLC Tecomat TC700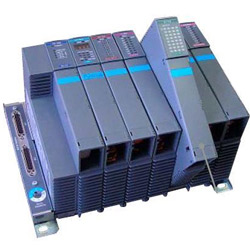 Teco TC700
Tecomat TC700, it is a modular control system from Teco Inc. Through a consistent integration of the international standard IEC EN 61131 and all well-proved features of present Tecomat PLC's altogether with new added features, a new product has been created which can be used for a great number of middle-sized and extensive applications in many branches of industrial automation, traffic or building installations. TECOMAT TC700 belongs to systems with increased functional reliability.
Main innovative features of Tecomat TC700 system
Higher Power
CPU modules are equipped with high-speed 32bit RISC processor. They reach the cycle lenght of up to 0.2 ms per 1000 instructions.
Smart modularity
Decentralized peripherals may run up to 1 700 meters thanks to optical connection of racks. User may use popular function HOTSWAP (exchange of peripheral modules can be swapped during operation).
Large Data Memory
Tecomat TC700 contains slot for flash card (SDHC, SD, MMC) for storage of web pages created with Web Maker, that is an integral part of Mosaic programming environment. Data are stored in structured file system.
Redundancy
Duplication of such items where even a small error probability can cause the critical situation is the method on how to increase the reliability of solution within the control system. Tecomat TC700 enables, thanks to its architecture, to solve the redundancy in several levels.
Perfect communication
Any TC700 configuration contains 2 independent Ethernet ports and up to 10 serial buses. There are also communication modules with FSK modems available ready for long distance data transfer with extra high reliability there. It´s very usefull in telematics.
Programming environment Mosaic
Programming and debuggin of programs for all Tecomat systems. Respects the IEC61131-3 standard. 4 kinds of programming languages. Tools for easy and intuitive creation: control circuit parameter seting, on-line programming, project storage in memory, Web Maker for internal web pages creation.
Control up to 6 axises
Motion control modules are able to control motion in up to 6 axises in different modes.
Application possibilities of TC700
Tecomat TC700 system consists of
---